Karyn's Appointment into the Alberta Marriage Commissionership in 1994 has kept her on a very busy schedule, alabeit a fun one. Karyns personal touch, her caring and sincere nature is evident right from your first contact, to your meeting prior to your wedding. She gives your wedding that personal touch. Karyn willingly takes the time to personalize your ceremony, and if other arrangements are needed she has the background to ensure your wedding is perfect.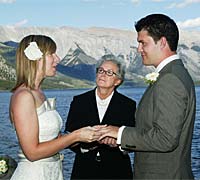 This care and attention for detail that Karyn brings to your day will ensure that you can rest easy, and enjoy your wedding. Couples from around the globe have enthused over Karyn's sincerity toward their special day. To the point of her being recommended to family members by other family members, with friends, and even attendees at weddings she has presided over, have come to Karyn for their wedding day ceremony. This lady's classy touch really brings a sparkle your wedding day.
Robin's Alberta Marriage Commissioner Appointment in 1998 is a day he looks back upon with a smile. His take on weddings are "it's a serious day in your lives together, but it should be filled with fun and laughter". Robin brings to your wedding a nice blend of humour, seriousness and style. He thoroughly enjoys meeting new people, his relaxed nature has helped many nervous couples through their wedding ceremony. He encourages you to be creative and personalize your wedding, at your meeting in his office prior to your wedding, he will assist in laying out and detailing your wedding ceremony.
Living in one of the worlds most beautiful park systems Robin firmly believes in getting out into nature. Having performed weddings on raft and canoe floats, hiking into the backcountry, Canadian Rockies Ski weddings and last but not least, Canadian Rocky Mountain Motorcycle weddings. His willingness to travel for you has him in many different locals within Alberta. Indoors or outdoors he is equally at ease, and truly enjoys being an Alberta marriage commissioner.