While Karyn Faryna and Robin White take their positions as Alberta marriage commissioners seriously, and your wedding day much to heart, they also bring a sense of ease and humour to this special day.
Putting hours of their time toward making your wedding day, a special event, that you will remember for the rest of your lives. Many a Bride and Groom have voiced their appreciation for their easy going natures. Turning a possible stressful moment, into, an often humorous and enjoyable memory.
Ben and I wanted to thank you again for making our day so special! Your personality and sense of humour helped us feel relaxed and enjoy the moment. Also, thank you for encouraging us to write our own vows - it really made the ceremony more personal and meaningful. What great memories we have now!
– Olga Kovalenko and Ben McDowell
Karyn and Robin take that extra time to attend all of your concerns, and have a very complete list of associates they highly recommend for your wedding details. Their combined time as Alberta Marriage Commissioners is well over twenty years and they have had the privilege of conducting wedding celebrations, from couples eloping , to weddings in excess of five hundred guests. Suffice to say that they are more than comfortable in their environment. Yet all the while, maintaining an easy, comfortable style. Karyn Faryna and Robin White make their promise to you, they will help you create that special feeling and memory, on your wedding day.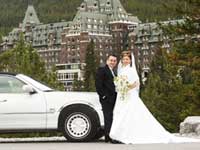 We have compiled a comprehensive list of venues and outdoor locations help you discover what this unique and diverse geographic region has to offer. With golf courses, hot springs, ski slopes and mountain lakes, the Canadian Rocky Mountains have it all for your destination wedding. Here are some of our suggestions. Come along with us.